StormX revamped referral rewards. Earn up to $1,000 per referral!
With the new StormX app update, you can earn insane amounts of referral rewards; up to $1,000 can be earned for one single referee, and the good part is that your friend also gets $1,000. That's a total of $2,000 for one single referral. In this article, I will explain, step-by-step, how you can set up your own referral account, and how the referral program works.
Referrals
So, what has changed in comparison to the old referral system, and how can I set it up? Well, let me begin with; EVERYTHING has changed compared to the old referral system. Instead of using a code, you now have a link that you can share with your friends.
This is much easier as people don't need to manually add the code and can simply click the link.
StormX offers 3 referral rewards now, Diamond referral bonus, Platinum referral bonus, and Gold referral bonus. It depends on the reward tier your referee is in, what you both will earn.
Gold: $40 each
Platinum: $450 each
Diamond: $1,000 each
In order to be eligible for the referral reward, your friend needs to be a new user (or a user that has never connected a wallet to the reward section before). After your friend signs up for a specific Reward Membership (Gold, Platinum, or Diamond) you both need to wait 90 days before the reward is paid out. During these 90 days, your friend can't downgrade the Reward Membership, if they do, you both lose the referral bonus.
Setting up your StormX account
If you want to refer people to the StormX app, you need to have an account yourself. You can download the StormX app for iOS here and the Android version here.
Once you download the app, sign in, or create an account if you're new. The log-in screen should look like the image on the left side.
There are several ways on how you can make an account, choose your preferred option on how to sign-up.
Once you are logged in to the app, you see 4 different tabs at the bottom "Shop", "Play", "Rewards" and "Wallet". Let me give a quick explanation of each tab!
Shop
StormX has two ways on how you can earn Cryptocurrency. Shop and Play. Shop earns you Crypto Cash Back when you purchase online at one of the stores in our app.
If you click on the tab, you will see a list with available stores like eBay, AliExpress, and lots of others (depending on your country). They have offers that give you up to 25% Crypto Cash Back on each purchase, so check it out if you haven't already.
Play
The second way to earn Cryptocurrency is through the Play section. StormX gives you opportunities to earn crypto by simply playing games and filling in surveys.
When you click on the Play tab, you will see a list of the tasks you can do. Again, it depends on the country where you live, but in my home country (I am from the Netherlands) I have a lot of offers to complete (I am an active app user so I completed most of the tasks already).
Rewards
This is an exciting tab for Shop users! When you connect a wallet to the StormX app and upgrade your membership by buying STMX tokens you'll earn even higher rewards.
For example, Gold Reward Users get 2x additional Crypto Cash Back and 25% reward time reduction. If you are a Diamond Reward User (the highest tier), you get 3.5x additional Crypto Cash Back and a 75% reward time reduction.
More
This tab is added to the latest StormX app update. The "Wallet" tab has been changed to "More" and you can find your wallet information on the "Rewards" page when you click "withdraw".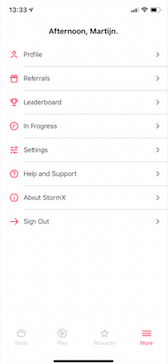 The More section gives you all the other possibilities in the app. You can check your profile here, the Leaderboard, the In Progress tasks, and Settings. You will also see a tab "Referrals" here. If you click on the Referrals button, you will be navigated to the Referral page where you can find your referral link, as mentioned above.
I hope this article was helpful and I wish you a lot of referrals!